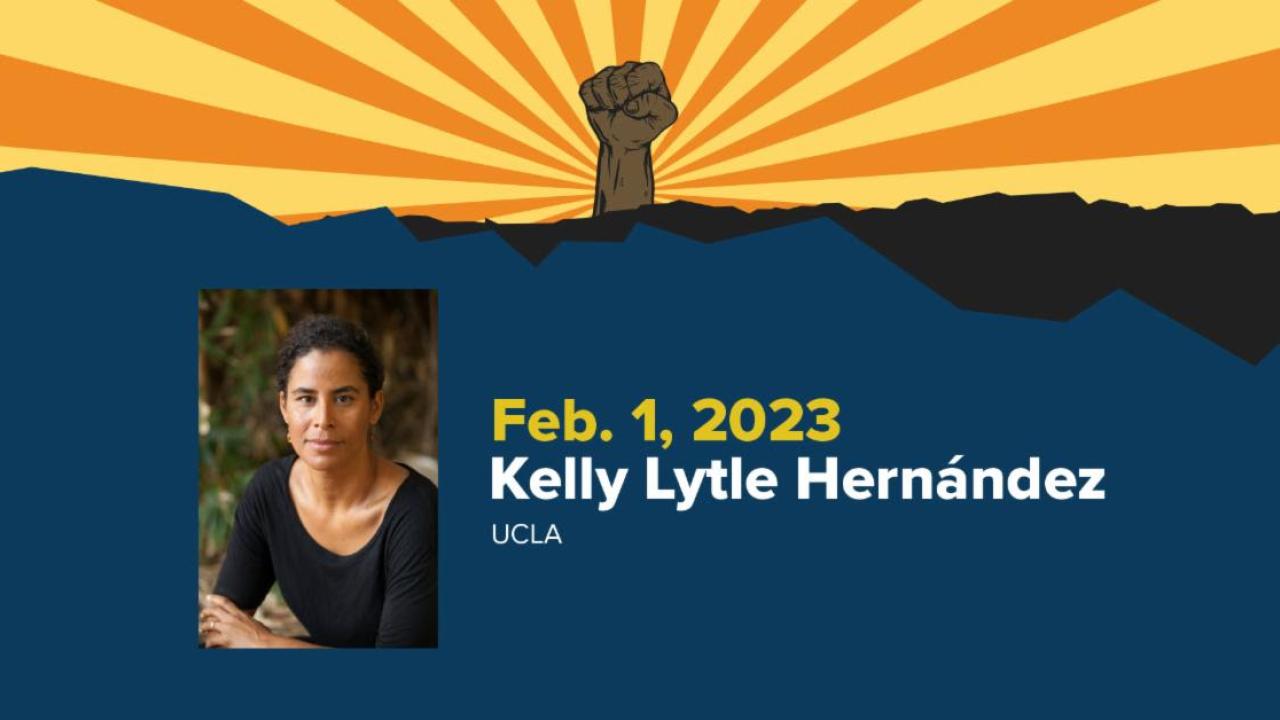 To attend the virtual event, register here
Organized by the UC Davis School of Law
Speaker:  Kelly Lytle Hernández (UCLA)
Bad Mexicans tells the dramatic story of the magonistas, the migrant rebels who sparked the 1910 Mexican Revolution from the United States. Taking readers to the frontlines of the magonista uprising and the counterinsurgency campaign that failed to stop them, Kelly Lytle Hernández puts the magonista revolt at the heart of U.S. history.
Kelly Lytle Hernández is a professor of History, African American Studies, and Urban Planning at UCLA where she holds The Thomas E. Lifka Endowed Chair in History and directs the Ralph J. Bunche Center for African American Studies. One of the nation's leading experts on race, immigration, and mass incarceration, she is the author of Migra! A History of the U.S. Border Patrol (University of California Press, 2010), City of Inmates: Conquest, Rebellion, and the Rise of Human Caging in Los Angeles (University of North Carolina Press, 2017), and Bad Mexicans: Race, Empire, and Revolution in the Borderlands (Norton, 2022). She also leads Million Dollar Hoods, a big data research initiative documenting the fiscal and human cost of mass incarceration in Los Angeles. For her historical and contemporary work, Professor Lytle Hernández was named a 2019 MacArthur "Genius" Fellow. She is also an elected member of the Society of American Historians, the American Academy of Arts and Sciences, and the Pulitzer Prize Board.

King Hall's Racial Justice Speaker Series 
Created in response to the tragic killings by police of George Floyd, Breonna Taylor and others and the widespread protests that followed, UC Davis Law's Racial Justice Speaker Series is now in its third year. Reaffirming the law school's longtime commitment to racial justice, the series invites leading scholars from around the country to explore systemic racism as it pertains to all communities of color and areas of law.  The goals are to inform, enlighten, and - most important - engage in meaningful conversation with our King Hall community and the larger public. 
Contact Onell Berrios with any questions. 
** California MCLE credits will be available for all attendees. MCLE certificates will be emailed within a week of the event.
COVID - 19 Guidelines:
Face coverings are strongly recommended and all are welcome to wear them. UC Davis Daily Symptom Survey
Tags