Location
Memorial Union | UC Davis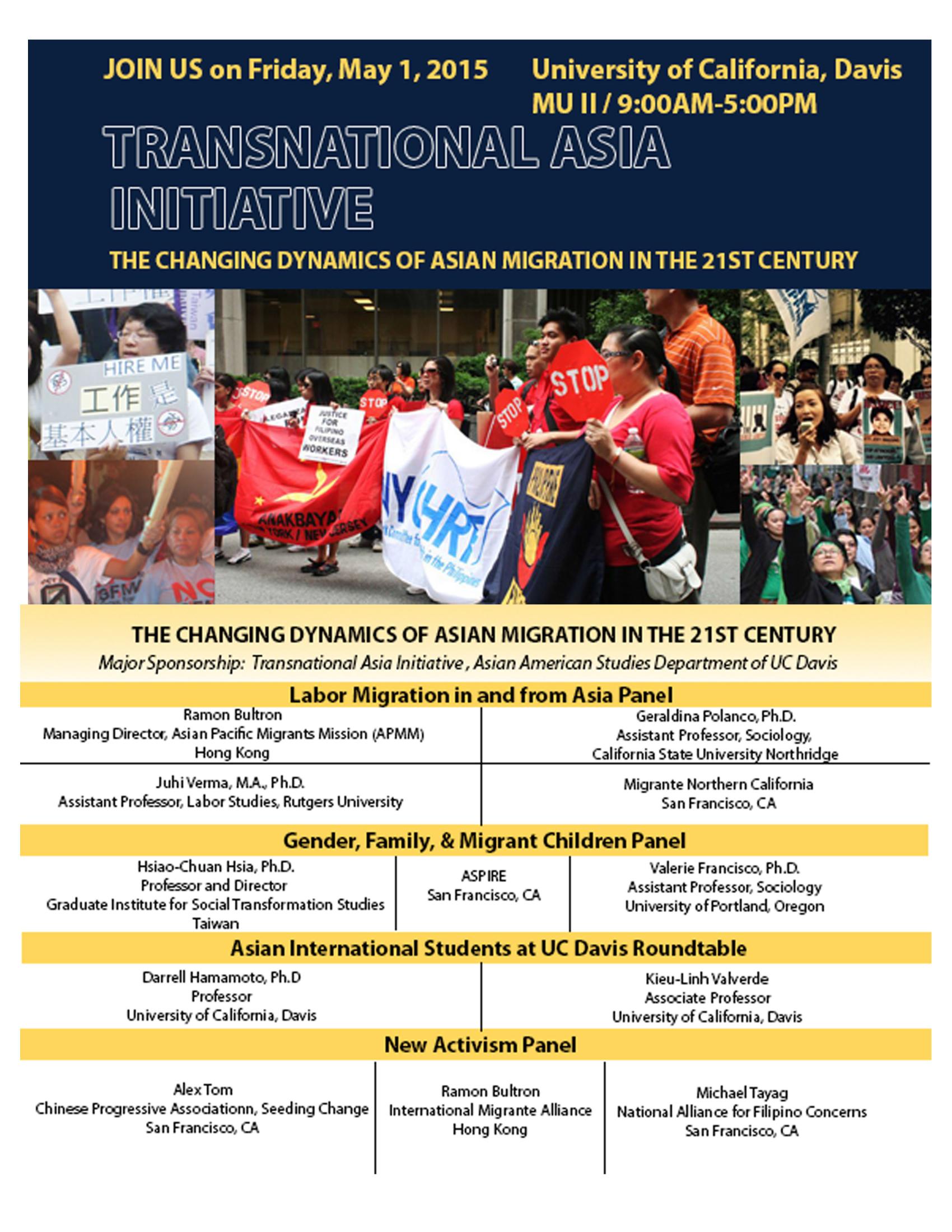 The central question this symposium interrogates is: how is Asian migration changing? Dramatic economic transformations in the Asian "tigers" have resulted in many countries becoming not merely migrant sending but migrant receiving countries. China and Japan, for instance, have long been sources of migrants to the United States and throughout the Americas. Today, however, they play host to migrants from others parts of Asia such as the Philippines, Indonesia, and Bangladesh. Indeed, for countries like the Philippines, Indonesia, and Bangladesh and others, out-migration has become more and more pronounced as a greater percentage of their citizens seek livelihoods far away from home.
At the same time, new forms of temporary labor migration increasingly constitute Asian migration to the United States. Asian migrants are working on short-term contracts in jobs ranging from software engineers, nurses, construction workers, to domestic workers. Low-wage Asian migrants are often victimized by unscrupulous recruitment agencies and private lenders who facilitate their migration to the U.S. Professional Asian migrants often do not always fare better as they too endure difficult working conditions as employers exploit their temporary status.
Whether people are coming or going, migration has profound economic, political and cultural impacts in both origin and destination countries. In particular, the symposium focuses on looking at increasing demand for temporary contractual workers in a range of industries; how gender shapes migrants' and family life is reconfigured; examining shifting ideas of belonging and reconfigured regimes of citizenship in both migrant sending and receiving societies; and tracking new kinds of migrant political activism.
 
Confirmed speakers include:
Ramon Bultron
Managing Director
Asian Pacific Migrants Mission (APMM)
Hong Kong
Juhi Verma
Assistant Professor
Labor Studies
Rutgers University
Hsiao-Chuan Hsia
Professor and Director
Graduate Institute for Social Transformation Studies
Shih Hsin University
Taiwan
Alex Tom
Chinese Progressive Association
Seeding Change
Representative from ASPIRE (Asian Students Promoting Immigrant Rights through Education)
ASPIRE is the first Asian Pacific Islander undocumented immigrant led organization in the Nation, based in San Francisco, CA. Its mission is to empower Asian Pacific Islander undocumented youth and young adults to educate, advocate, organize, and mobilize for the rights of immigrant families.
Event Category
Tags