Location
1131 SS&H | Gold Conference Room | UC Davis
Abstract
An ideal way to identify the consequences of foreign-born skilled labor flows would be to conduct an experiment in which foreign workers are randomly assigned to some "treated" local labor markets but not to other "untreated" markets. Causal wage and employment effects for natives could then be measured by comparing the outcomes of natives working in these treated and untreated markets. A similar experiment occurred in 2007 and 2008 when 65,000 H-1B skilled worker visas were randomly allocated to foreign applicants with job offers. Firms were unable to fill about 88,000 requested computer-related positions for H-1B workers in each of those two years. Our analysis tracks the consequences of this random H-1B supply shock on the employment and wages of natives across cities for computer-related occupations in 2009, 2010, and 2011. We find that negative H-1B shocks produced lower employment and wage growth for native-born workers in the same labor market. This implies that H-1B workers do not displace, but rather complement, natives in computer-related occupations.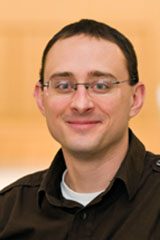 Chad Sparber
Associate Professor of Economics, Colgate University
Chad Sparber earned his BA in economics at Western Washington University in 2000 and his PhD at the University of California – Davis in 2006. He has been a professor at Colgate University since 2006, and an external research fellow at the Centre for Research and Analysis of Migration at University College London since 2009. Chad's current research examines the economic causes and consequences of immigration. 
Event Category
Tags