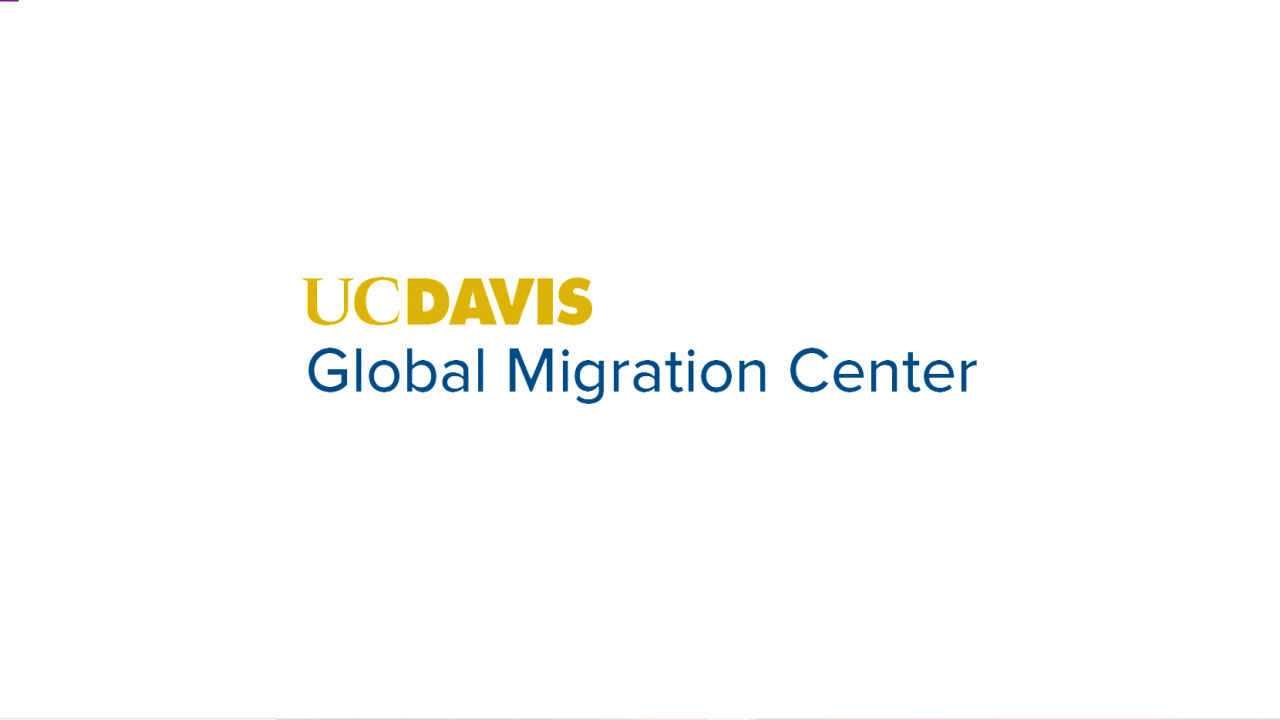 Location
2203 SS&H (Andrews Conference Room) | UC Davis
In the Global Migration Center Faculty Symposium, the associates of the research center will present their research in a compact and thought-provoking way. Brief presentations of 15-20 minutes will reflect the multi-disciplinary and policy-oriented nature of the group and will be accessible to scholars of immigration across fields. They will touch economic, social, legal, and political themes linked to migration as well as historical and human-cultural ways of looking at this phenomenon.
All interested faculty, graduate students and people involved in policy making and working with communities of immigrants are encouraged to attend. The goal of the conference is to cross-fertilize ideas for present and future research on the phenomenon of migration and also to provide an overview of our research to policy makers and community organizers with an interest in immigration issues.  
Registration closes on December 5 at 12:00pm. 
Agenda
12:00-1:15 PM
LUNCH
1:15-1:30 PM
SESSION I
Giovanni Peri, Professor, Economics
Evaluating What Works for Refugees: Language Learning and Economic and Social Integration
1:30-1:45 PM
Brad Jones, Professor, Political Science
Lost Inside: Awareness, Blame Attribution, and the Migrant Death Issue on the U.S.- Mexico Border
1:45-2:00 PM
Caitlin Patler, Assistant Professor, Sociology
DACA and Psychological Wellbeing
2:00-2:15 PM
Stacy Fahrenthold, Assistant Professor, History
Border Anxieties: Middle Eastern Merchants and the Textile Trade on the U.S. – Mexico Borderlands, 1909-1929
2:15-2:30 PM
Q&A
2:30-2:45 PM
BREAK
2:45-3:00 PM

SESSION II
Ashish Shenoy, Assistant Professor, Agriculture and Resource Economics
Implementation at Scale: Lessons from a Seasonal Migration Program

3:00-3:15 PM
Jeannette Money, Professor, Political Science
Migrant Precarity and Mobilization: Homeland Advocacy or Migrant Rights?
3:15-3:30 PM
Robert Irwin, Professor, Spanish and Portuguese Humanizando la Deportación: New Dynamics of Containment, Detention and Deportation in North America
3:30-3:45 PM
Q&A
3:45-4:00 PM
BREAK
4:00-4:15 PM
SESSION III
Santiago Perez, Assistant Professor, Economics Intergenerational Mobility of Immigrants in the US Over Two Centuries
4:15-4:30 PM
Erin Hamilton, Assistant Professor, Sociology
De Facto Deportees: The Role of Deportation in the Migration of U.S.-born Minors to Mexico
4:30-4:45 PM
David Kyle, Associate Professor, Sociology
Critical Studies on Human Smuggling: The Rise of a Transnational Academic Network
4:45-5:00 PM
Q&A
5:00 PM
ADJOURN
Event Category
Tags