Location
1001 King Hall | Main Court Room | UC Davis
About the paper
The absence of federal comprehensive immigration reform has led to increased cases of racial profiling by law enforcement, as local officers see fit to take enforcement of federal immigration law into their own hands because of frustration with federal immigration enforcement. In Arizona, Maricopa County Sheriff Joe Arpaio and his deputies have gained a national reputation for targeting Latinos and unlawfully detaining, questioning, and arresting them for the sole purpose of investigating their immigration status, in violation of federal law. As a result, the Maricopa County Sheriff's Office's (MCSO) rampant racial profiling has created a culture of fear in Maricopa County among the Latino community, citizens and non-citizens alike.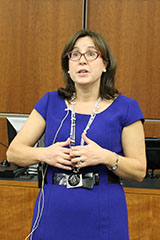 Nancy Ramirez
Western Regional Counsel, MALDEF
Nancy Ramirez is the Western Regional Counsel for the Mexican American Legal Defense and Educational Fund (MALDEF), the nation's leading Latino civil rights law firm. From 2005 to 2007, Ms. Ramirez was the Executive Director of the Los Angeles Center for Law and Justice (LACLJ), a nonprofit community law office in Boyle Heights that provides free legal services to indigent residents of Los Angeles County. From 2001 to 2005 she was the LACLJ's Managing Attorney for the Consumer Unit representing victims of consumer fraud. She also represented victims of domestic violence in their family law cases. Ms. Ramirez was the Director of Congresswoman Loretta Sanchez's Orange County and Washington D.C. offices from 1997 to 1999 and Director of Outreach for California's 2000 Census Campaign. In addition, she taught legal writing at the University of Southern California Law School in 2003-2004. She is a 1990 graduate of Harvard Law School and 1987 graduate of U.C. Berkeley. 
More information on Ortega Melendres v. Arpaio here and here.
Event Category
Tags