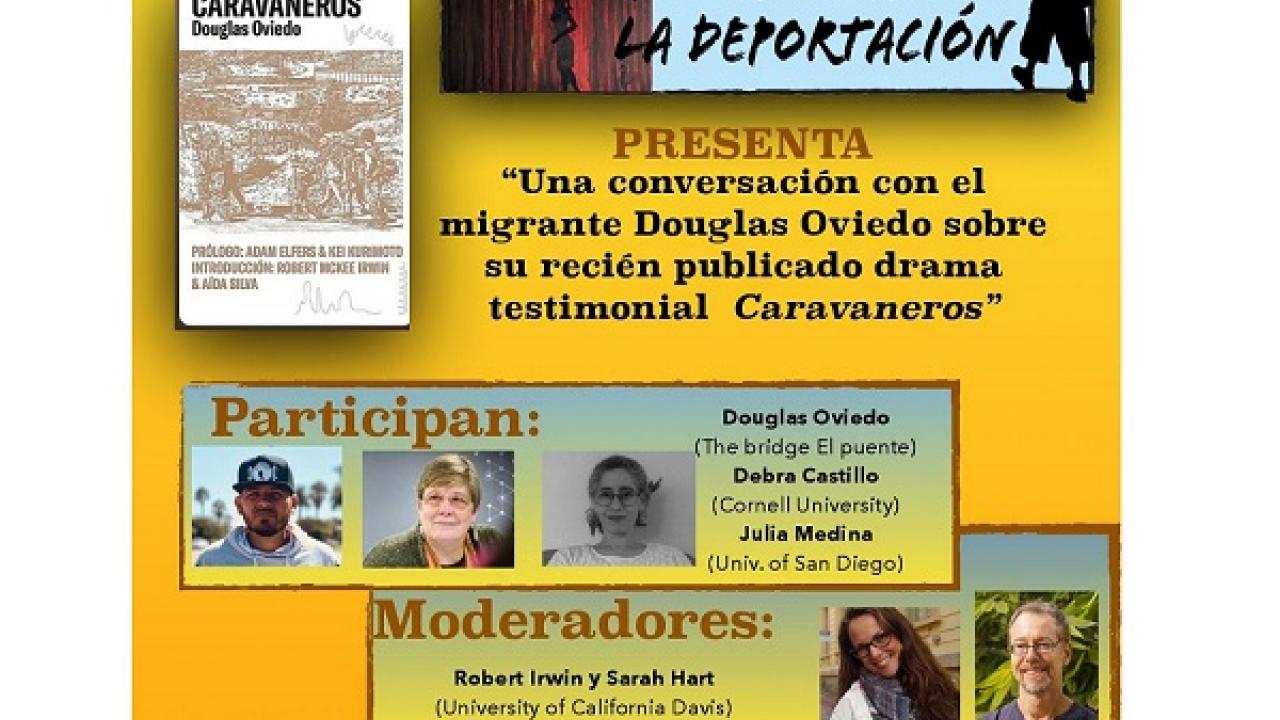 Humanizing Deportation presenta una conversación con el migrante, activista y artista Douglas Oviedo sobre su recién publicado drama testimonial Caravaneros, con Debra Castillo (Cornell University) y Julia Medina (University of San Diego), moderada por Robert McKee Irwin (University of California, Davis) y Sarah Ashford Hart (University of California, Davis) el lunes, 30 de Noviembre, a las 2:00pm (hora de California) en Zoom (asistencia abierta por conexión directa: no hay que reservar): https://ucdavis.zoom.us/j/99300382834 
Humanizando la Deportación es un proyecto en narrativa digital que documenta las consecuencias de las políticas actuales del control migratorio en América del Norte. Desde principios de 2017, este proyecto, con su sede en UC Davis, ha ofrecido una plataforma para que lxs migrantes compartan sus experiencias personales en nuestra página web de acceso abierto y bilingüe (http://humanizandoladeportacion.ucdavis.edu/es/). Este archivo comunitario actualmente comprende más de 300 narrativas digitales de unas 250 diferentes narradorxs comunitarixs y representa la fuente pública robusta de este tipo de material documental en el mundo. La historia del proyecto se cuenta acá: https://www.ucdavis.edu/curiosity/news/humanizing-deportation.
Douglas Oviedo es un pastor y activista promigrante originario de Puerto Cortés, Honduras. Formó parte de la caravana hondureña que llegó a Tijuana durante el otoño del 2018. A lo largo de su estancia en esa ciudad se convirtió en gestor cultural y cofundador del albergue <<Casa Hogar El Puente>>. En septiembre de 2019 le fue otorgado el asilo en Estados Unidos, país desde el cual sigue apoyando a su comunidad en Honduras y a los migrantes centroamericanos que se encuentran en Tijuana. 
En esta presentación virtual, conversaremos con Douglas acerca de cómo fue la experiencia de migrar en la caravana del otoño de 2018, qué dinámicas de poder había detrás de su trayecto por México, y como el llegó a contar esta historia en forma de drama testimonial. Su nuevo libro Caravaneros, cuya publicación fue patrocinada por Humanizando la Deportación, está disponible a precio muy accesible en Amazon aquí. ¡No te pierdas la oportunidad de conocer esta historia tan impresionante!
Event Category
Tags