Location
International Center, Room 3119 | UC Davis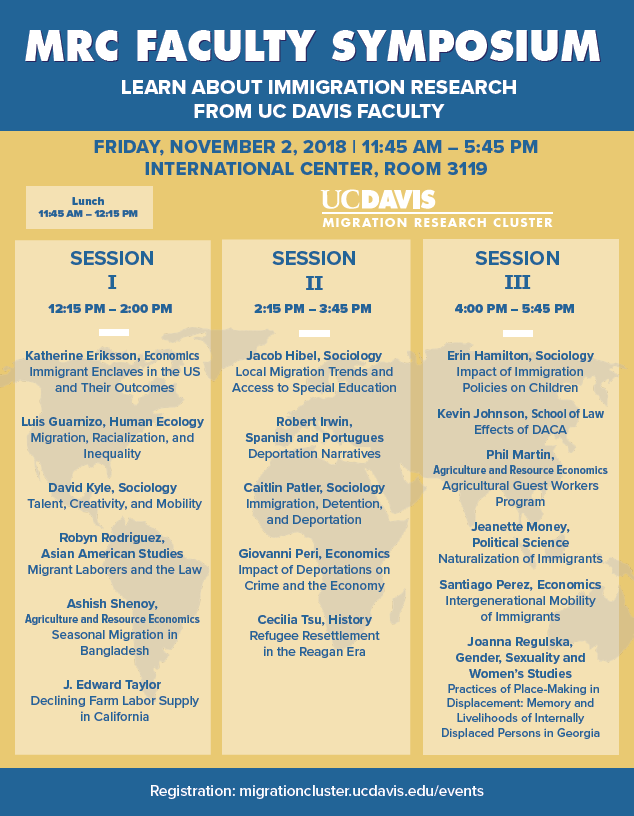 In the MRC Faculty Symposium, the associates of the research cluster will present their research in a compact and thought-provoking way. Brief presentations will reflect the multi-disciplinary nature of the group and will be accessible to scholars of immigration across fields. They will touch economic, social, legal, and political themes linked to migration as well as historical and human-cultural ways of looking at this phenomenon.
All interested faculty and graduate students are encouraged to attend. The goal of the conference is to cross-fertilize ideas for present and future research on the phenomenon of migration which is a defining social force in our time.
Registration is now closed.
Agenda
 
11:45AM-12:30 PM

LUNCH

12:30-2:00 PM

 

SESSION I

Giovanni Peri

, Professor, Economics




Impact of deportations on crime and the economy

Luis Guarnizo, 

Professor, Human Ecology




Migration, Racialization, and Inequality

David Kyle

, Associate Professor, Sociology




Talent, creativity and mobility

Robyn Rodriguez

, Professor, Asian American Studies




Migrant laborers and the law

Ashish Shenoy

, Assistant Professor, Agriculture and Resource Economics




Seasonal migration in Bangladesh

2:00-2:15 PM

BREAK

2:15-3:45 PM

SESSION II

Jacob Hibel

, Associate Professor, Sociology




Local migration trends and access to special education 

Robert Irwin

, Professor, Spanish and Portuguese 




Deportation narratives

Caitlin Patler

, Assistant Professor, Sociology




Immigration, detention and deportation

Katherine Eriksson

, Assistant Professor, Economics 




Immigrant enclaves in the US and their outcomes

Cecilia Tsu

, Associate Professor, History




Refugee resettlement in Reagan Era

3:45-4:00 PM

BREAK

4:00-5:30 PM

SESSION III

Erin Hamilton

, Associate Professor, Sociology




Impact of immigration policies on children

Kevin Johnson

, Dean, School of Law




Effects of DACA

Jeannette Money

, Professor, Political Science




Naturalization of immigrants 

Santiago Perez

, Assistant Professor, Economics




Intergenerational mobility of immigrants

Joanna Regulska, 

Professor, Gender, Sexuality, and Women's Studies




Practices of Place-Making in Displacement: Memory and Livelihoods of Internally Displaced Persons in Georgia

5.30 PM

ADJOURN
Event Category
Tags